By Braden Lyon
As the director of McIntyre Hall, Nida Tautvydas has not only been incredibly important to the college for years on end, but to the broader community as well. Consistently driven since High School, she has perfected her craft doing what she's always known to be her path, creating a unique culture of performing arts in the community along the way.
"In third grade I knew exactly what I wanted to do. I wanted to be involved in the performing arts center, I wanted to be performing, I wanted to be that piece that connects people," She says when asked what lead her to where she is currently, and before she had even graduated she was doing just that. "I started off, probably when I was 5, with all kinds of dancing lessons, playing several instruments, my undergraduate degree was in performance and management, and my masters was in performing arts management. It's always been that". She toured early on through the Midwest and over seas performing classical music and dancing. She always connected with art and music, and found herself particularly interested in how it shapes who we are as people, thus resulting in her desire to bring that to people through a performing arts center. "I started presenting events in my town, we brought in different artists and I just thought it was the greatest thing. I started getting exposure from that side of things in high school."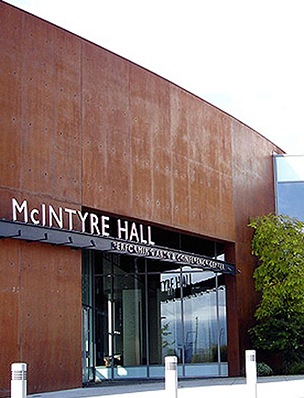 Photo Courtesy of McIntyre Hall
From there she found mentors, internships, and small jobs until she became the general manager of a large scale performing arts facility while working on her masters at just 23 years old. "We wrote a grant and got just over $10 million to build a new performing arts center, then by the time I was 27 I was consulting between Chicago, New York, Colorado all while managing that center. I've been doing this forever!" She laughs.
Having all this experience, she has become trusted in the community and the talent she brings to McIntyre is always rewarding, even when somewhat challenging. For more information on McIntyre events, their website is mcintyrehall.org and SVC students can see shows from the "McIntyre" presents series free of charge when it starts up again next fall.