SVC Prepares For Summer Soul Fest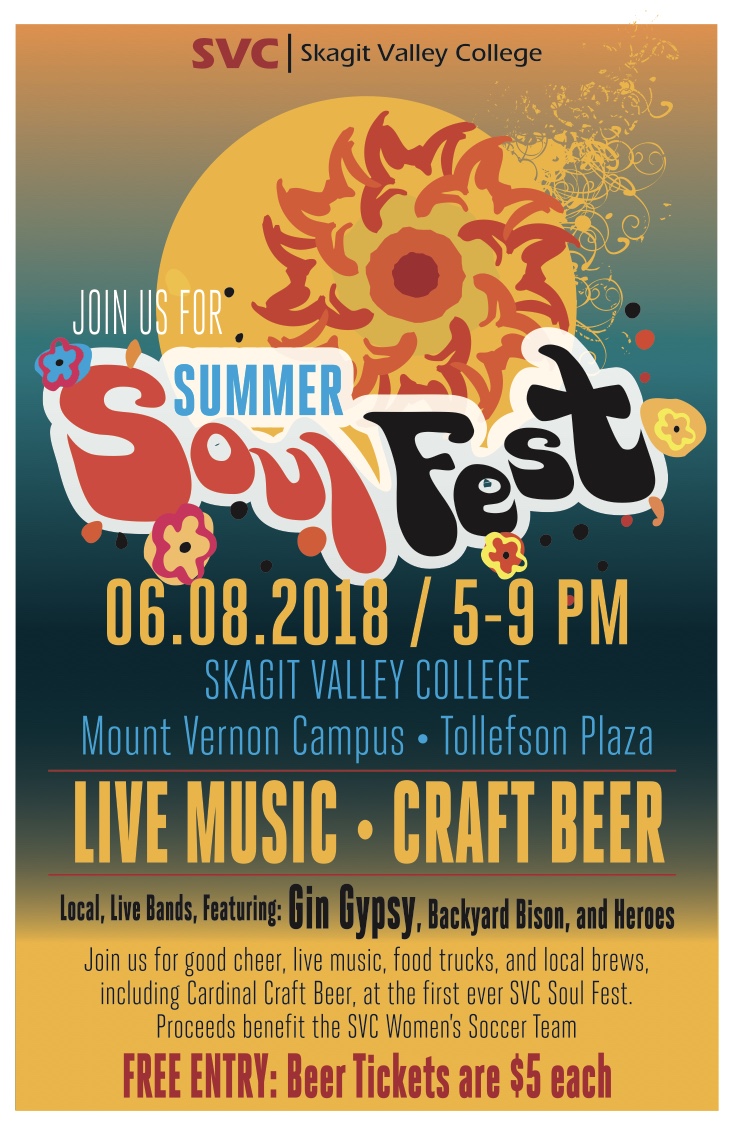 Soul Fest is set to be June 8th 5:00 P.M. – 9:00 P.M., after Cardinal Day on the Mount Vernon Campus at Tollefson Plaza. This will be the first annual Soul Fest put on by the SVC Foundation and the Women's Soccer Program. There will be live music from multiple bands as well as food from a variety of food trucks, and local brew for attendance 21 years and over.
One of the major goals for this event is to get SVC connected to the Skagit Valley community. The SVC Women's Soccer Team will take advantage of this event to raise funds. The Brewing Program at SVC will support the event with Craft Brew. Local Bands will be attending and bringing crowds to the college campus
The bands that will be performing at Soul Fest will include Gin Gypsy, Backyard Bison, and Heroes. All of these bands are relatively local, but contrast in very different ways from each other, providing Soul Fest with a unique lineup, setting the stage for a unique night.
Come Celebrate at the Cardinal Day Carnival
Come celebrate the hard work of SVC students at Cardinal Day. This celebration will be held on June 7th from 2:00 pm to 6:00 pm. There will be games, food, rock climbing and club stands; all for free!
Student Life organizes this annual event and other SVC clubs can volunteer to help out. This year, many clubs including the Journalism club and Phi Theta Kappa will be sending a few of their members to represent them at an informational booth for their organization. Members of these clubs and others will also be working alongside Student Life to host the celebration of the year.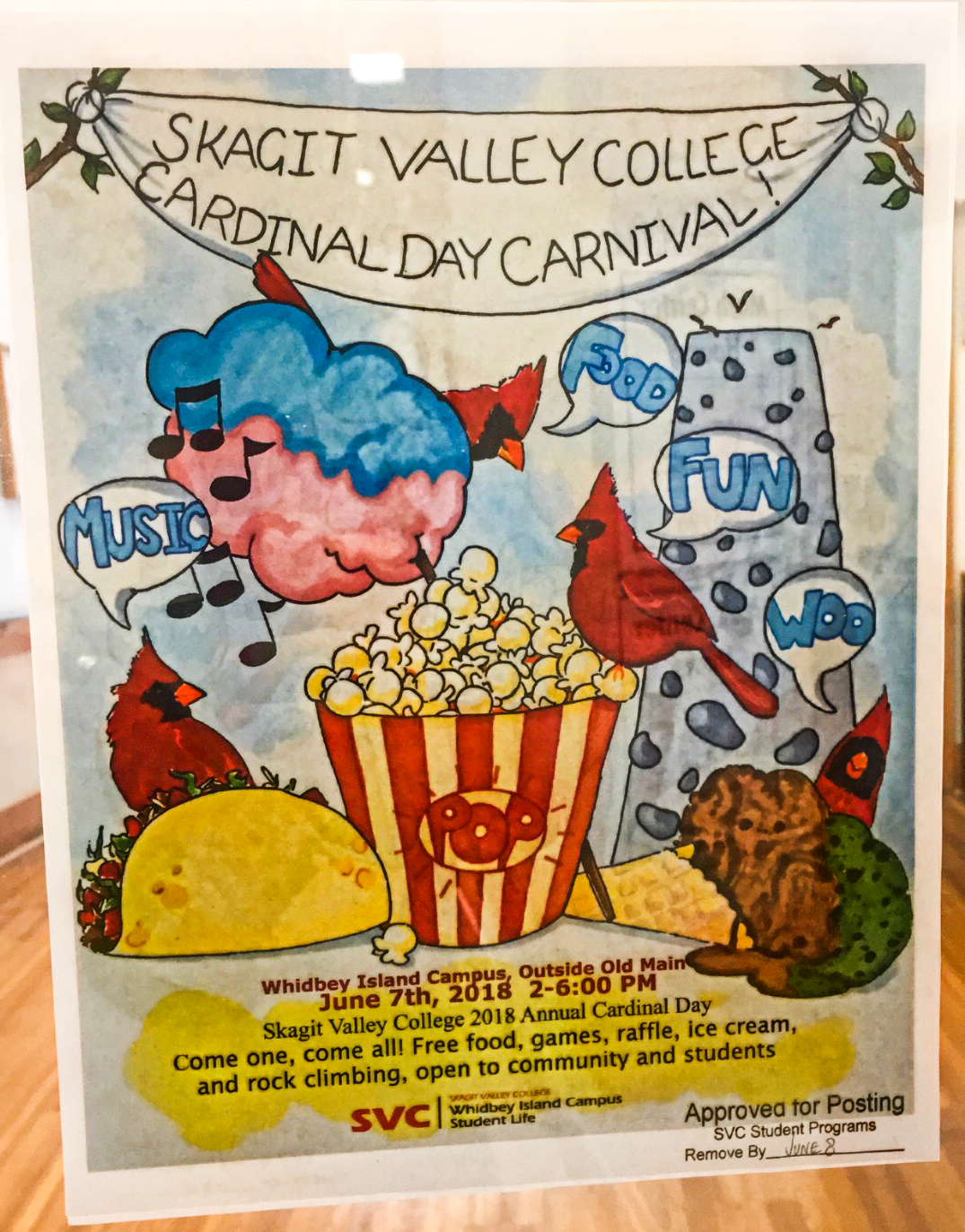 May Means an Open Market in Mount Vernon
The Mount Vernon Farmers Market opened last Saturday, May 19th. The Market opened at 9am at Riverwalk Park in downtown Mount Vernon and will run every Saturday until October 13th, totalling to 22 weeks. In addition to the Saturday Market, the Wednesday Market will open on June 6th at the Skagit Valley Hospital Kincaid Entrance Lawn from 11-4 pm.
This will be the Mount Vernon Farmers Market's 31st year running and it's fourth year at it's permanent location at Riverwalk Park. In the years prior, the Market had moved around based on where it could be hosted, since it was so large and had many vendors location was difficult. This season of the Saturday Farmers Market includes over 55 vendors. This number plans to grow to about 75 vendors as more crops come to season. Shawna Mengle is excited to be starting her third year as Market Manager and has many of vendors returning from last year. She shares that in contrast to the Saturday Market, the Wednesday Market has 12-14 vendors and is catered to the hospital employees and families in the hospital who can't make it on a Saturday, but everyone is still welcome to come on a Wednesday. Vendors at the Hospital location are mostly artisan and produce  as that is a practical need for the demographic.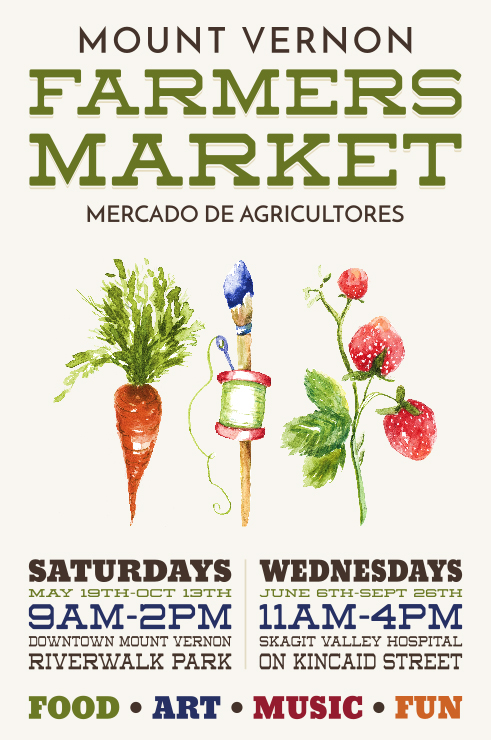 First Annual SVC Music Festival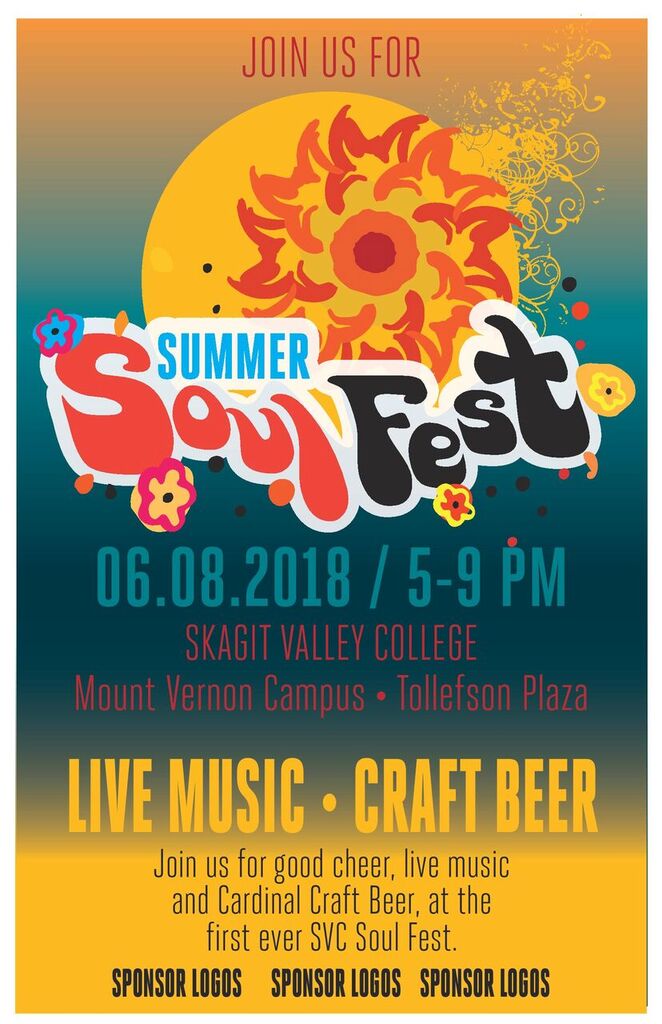 By Madison Brand
On June 8, 2018, Skagit Valley College will be holding its first annual music festival: SoulFest. The SVC Foundation is co-sponsoring the event with the Woman's Soccer Program and the SVC Program Board. The event will be on campus in the Tollefson Plaza from 5 p.m. – 8 p.m. On the balcony of Lewis Hall will be a Beer Garden for the 21 and older guests made by the Skagit Valley College Craft Brewing Program. You can also expect to see a variety of food trucks that will be available throughout the evening.
Student Life Director at Skagit Valley College, Brian Murphy, says the event will be a great "community building activity" and a "celebration of the year's work." Although still being finalized, attendees can expect to see a few different bands performing that night. A band from Oak Harbor High School, The Backyard Bison, will be one of the bands at this event. There will be small a cost for those taking advantage of the food and beer selection but is free for those just enjoying the music selection.