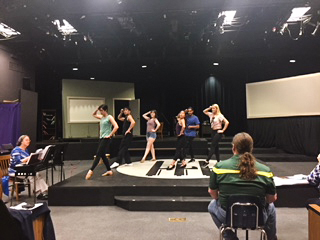 Students auditioning for the musical
Photo accreditation: Madison Brand
By: Madison Brand
On May 30, 2018, the SVC Drama Department held auditions for the musical, Chorus Line from 6 pm – 8 pm in the Phil Tarro Theatre at Skagit Valley College. There were three sessions, each lasting an hour with ten to twenty people auditioning in each group. 
The audition analyzed students in their acting and dancing skills. Students who auditioned rehearsed a given monologue that was expected to be learned by the time of auditioning. While at the audition, students worked with two choreographers from the Skagit Academy of Dance. The choreographers, Michelle and Donna, also helped choreograph Beauty and the Beast in Winter Quarter of 2018.
Chorus Line is a story about the acting industry and the struggle of landing a job as an actor/actress. Damond Morris, the director of the Drama Department at Skagit Valley College says that Chorus Line is relevant to not only actors, but also to the students. Students find themselves repetitively answering questions like "what do you want to do?", and "where do you want to go to school?" Chorus Line brings light to the struggles of landing a career as an actor/actress, but also the struggles that each person faces when questioning and deciding on their path in life. Morris says he would like to bring light to "how we contribute to society" and is eager to "expose [the play] to the community."
Chorus Line is unique in that it features handfuls of people and few main roles. Individuals who are the "principal actors" will work with choreographers over the summer to have a chance for extra tap dance practice time before fall begins. Morris suggests that the cast needs a variety people who can and can't dance. Those who can't dance will be taught and instructed. The cast has seven weeks once Fall Quarter begins to pull the finishing touches of the play together. Morris says this will be a challenge, but it will be reachable and rewarding in the end.
Although auditions already occurred, students may still be able to get involved with the production of the musical. If interested in learning more about Chorus Line or the Drama Department, contact Damond Morris, the director of the Drama Department at Skagit Valley College at [email protected].
The SVC Drama Department is committed to championing an engaged student body, combining theatrical practice with pedagogical and interdisciplinary collaborations across the campus community. The department explores creative expression promoting community and diversity and is committed to work across all theatrical disciplines with our regional theatre community.