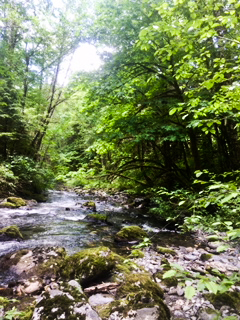 End of the trail at the riverfront
By: Madison Brand 
Hop in the car and get your feet muddy this summer on scenic trail 1,000 puddles located near Acme off Highway 9. This 5-mile round trip, easy trail along the South Fork Nooksack River is ideal for all ages and features a variety of outdoor activities such as fishing and swimming! 
Finding the trail can be slightly deceiving at first as there appear to be a few different routes. Cross the bridge and pass the gate, then you will find the trail on your right-hand side. While strolling along, there are multiple trails venturing off the main path leading down to the river. These spots look great to set up for fishing, a quick breather, or for a picnic along the river. The green, lush nature canopies the trail making a great opportunity to see birds, wild flowers, and beautiful butterflies dancing in the trees. I even watched a doe stroll along the trail ahead of me. After two and a half miles, you will pop out at a beautiful riverfront area. This is a great area to dip your feet in and have a snack before turning around. The trail was said to end here, but it appears you can cross the river and continue, although I do not advise as the trail gets rough, less-travelled, and muddy.  
The first half of the trail appeared clean-cut and well maintained. The rushing sounds of the water made it a peaceful nature walk. The second half, however, became a little less enjoyable. I would advise wearing long sleeves and long pants to protect your skin from the pokey nettles. The bushes were a bit overgrown making it hard to walk through at times. This also made bugs an issue, so bug spray is a necessity on this hike. Wear shoes that you do not mind getting dirty. I found the trail to be quite muddy in some places making it difficult if you don't have the right shoes.  
I spoke with the few people I saw along the hike. One person, wearing shorts, warned me about the upcoming nettles which made her skin irritated and itchy. Another couple I talked to reported that the direction of the hike can be deceiving at times since there were multiple places to veer off the beaten path. Many people use the trail for hiking, fly fishing, swimming, and bird watching. The trail is consistently flat making it kid friendly and an ideal place for dogs to play!  
Overall, I enjoyed the ease of this hike and would recommend it for families looking to have a peaceful and relaxing day!